I am so grown up now that I try to learn from all my experiences 🙂  Take this silly, nagging hip/hamstring/glute "issue" I've been having.  Quite frankly, I'm sick of it!  It has been sticking around since Ironman 70.3 World Championships in September.  I denied it entirely through September and October. November I got serious about making it better and started Hot Yoga.  By December, I was at a loss for what more to do……….then I realized, there was PLENTY I could do.
We are so fortunate to live in Southern Utah.  We have beautiful weather almost year-round.  We live in a big enough community to have everything we need, but small enough to benefit from some spectacular services.  One of which I needed to take advantage of to help this injury heal.
Enter the Dixie Regional Medical Center's  (our local hospital) LivWell Center…….
The LivWell Center includes the Athlete Republic Acceleration Program.  This place is the home of sport and performance training in St. George.  If you are an athlete and want to improve your performance………These are the trainers you hire! (I would LOVE to work there!).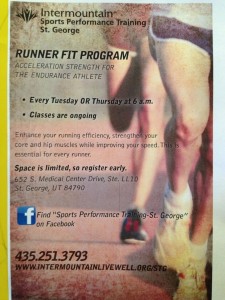 A few months ago they started a new program called "RunnerFit".  This program is designed by exercise physiologists and physical therapists to make runners strong and efficient.   I fit the bill.  I'm neither a strong, nor efficient runner……..especially under my current circumstances. I started the program last week.
Let's be honest for a minute…….I'm not the kind of athlete you are going to find in the weight room.  It is not that I don't like to strength train.  I  just always have an excuse.  I don't have enough training time with my other sports.  I never have time to recover the soreness of a strength workout.  I'm working on changing my thinking….I need to change my thinking.
In the two weeks that I've been to this class (I go twice a week), I can already see HUGE benefits.  There is something about getting yourself on a state-of-the-art treadmill for an interval and then watching the replay on the television to evaluate your form.  Just when you thought you were in perfect position, heeding the trainers cues, you SEE you are CLEARLY NOT!
In just four, 1-hour sessions, I can feel myself starting to connect the necessary technique to what is really happening with my body.  THAT KIND OF INFORMATION IS INVALUABLE!  In addition to the treadmill intervals they guide you through plyometric and strength training exercises targeted to work the areas found to be weakest and most necessary in the sport of running.   This isn't just doing some bicep curls.  These are dynamic movements that make you STRONG!
Once again, I find myself out of my box and loving it!
Coming Soon! Part Four:  Grown-Ups Eat Like a Caveman?