October is wonderful…….No one in St. George can dispute that!  With perfect weather, racing opportunities every weekend, what's not to love 🙂  Of course, October is also Breast Cancer Awareness Month.  Organizations, businesses and individuals rally around a single, and very pink cause………To Raise Money to End Breast Cancer!  In St. George runners have that opportunity at the Save-a-Sister 5k/10k.
Last year was the first year I participated in this event.  It was close to home, in that my husband's mother had been diagnosed with breast cancer in early 2010 and fought the disease through a mastectomy and chemo therapy before becoming cancer-free.  Since, Adam's grandmother had also been ravaged by the disease, I find it important to educate my children.  I don't think hard things should be kept from children and this is one of those times.  Last year, I was clear to them (especially my daughter) that Grandma Donna was sick.  When we had the opportunity to support breast cancer through a running event, it was another great opportunity for education.  So together with my mom and my two little ones in the jogging stroller we ran and walked Save-a-Sister 2010.
When the 2011 event rolled around there was no question we were going to be there with our pink on (PowerTri Pink was perfect!)  🙂  I was happy to be joined again by my mom AND my dad (a man who has NEVER done a race!).  In 2011 we were not only remembering my mother-in-law's battle with the disease, but also my mother's aunt, Marilyn Bauer, who was recently diagnosed.   We were set to have a fun morning.
St. George City Races does an awesome job with races!  I love being involved in their events.  I had decided this year to run the 10k solo (no stroller) and leave the strolling to my parents who would walk the 5K.  The race takes place in our neighborhood and runs right past our backyard TWICE on the 10K.  Our neighbors get involved and it just adds to the fun.
600 of us took off from the starting line and I had the pleasure of running with my friend, Shirley Leydsman (Ironman and LOTOJA Champion…….Yeah, don't mess with her!) for the first half of the race (she was doing the 5K).  We went out of the gate fast……maybe a bit too fast 🙂  The course is hilly and definitely challenging.  Since I hadn't done anything all week long after Pumpkinman (It's the off-season right?), I had no idea what my legs were going to feel like.  I was just here to run for a good cause and enjoy the company of my family and friends.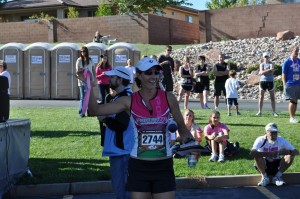 When the final stretch of the race came, I was comfortably out in front of all the ladies and actually 3rd overall (males and females).  St. George Running Center took care of the winners with some awesome prizes and we all left with full hearts.
There are so many events out there benefiting very needy causes.  I'm so grateful that while doing what I love, I can also give back to my community and those in need.  Thanks St. George Races for the awesome opportunity! Next weekend I'll be out at the Monster Dash 5K helping to raise funds for Big Brothers Big Sisters of Utah.  I'll be wearing the hat as race coordinator rather than athlete, but it is a hat I willing accept to support another GREAT cause.  Come on out and join the fun!