The story of how the L.A. Marathon came to be on my race schedule is an interesting one, so I'll start there………..As everyone on the face of the planet knows, I get my chance to run Boston this year!  If you didn't know you probably haven't talked to me for more than a minute in the past 6 months (or read my Facebook posts).  Boston on the brain!  That is for sure!  Let's just say, I'm a bit excited to have qualified and have my chance to toe the line in Hopkinton.  The road to Boston isn't only physically challenging, but logistically.  Where do you stay?  How do you get there?  When do you leave?  When do you come home?  How will you get around Boston?  My running partner and I had taken care of most of the details which included leaving our families behind and making it a week of nothing but running and selfish vacationing.  For Adam and I, there was no way we were going to be able to afford to fly our little family to the finish line.  We came to a solution that Adam's mom would come to St. George and drive with Adam and the kiddos to Los Angeles (where she lives).  Perfect plan!   Not so fast!
The more and more I contemplated my first trip away from my kids the more and more anxiety I felt.  Almost to the point of not wanting to go to Boston.  I couldn't handle the thought of my children in a car driving for 7+ hours across the Mohave Desert without me.  Every terrible thought that can enter a Mother's mind did and with little remorse.  I finally told Adam there was NO WAY I could get on a plane to the other side of the country while my children were away from home.  We had to reach another compromise.  I sold my soul to the devil and agreed to travel to Los Angeles (I'm not the biggest fan of California, I mind you…….no disrespect intended to any Californians.) and agreed to stay at my in-laws…..something we have never done with children in tow.  I can honestly say that it was not my ideal family vacation, but if it soothed my anxiety while I traveled to Boston knowing that my children would be snug in their own beds, I would do it.  The date was set for our family trip……..The weekend of March 19th.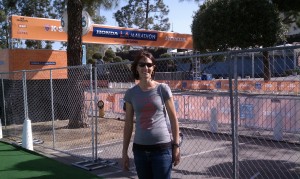 I don't even know why I was thinking about the L.A. Marathon (maybe a Runners World article or something), but I found myself looking at their website.  The 2011 race was the weekend that we were going to be in Los Angeles, on Sunday, March 20th.  It was my salvation!  I needed a long run that weekend and I was definitely going to need a break from the family vacation.  What better way to kill two birds with one stone………I paid my $145 (YIKES!  That hurt!) and was on my way to run one of the countries largest marathons.
My first two marathons were the Marine Corp Marathon in 2001 and 2002, so I knew what it would be like to toe the line with 20,000+ runners.  There is an energy at those events that you just don't find anywhere else.  We got to Los Angeles on Friday afternoon and drove directly to Dodger Stadium to the Expo and Packet Pick-up.  It was everything I imagined it could be.  The weather was beautiful and warm (actually a little hot in the sun) and the entire Expo was outdoors.  I'm so glad we went on Friday because it was busy enough to be interesting, but no crowds at packet pick-up.  I was assigned bib number 16120 and had my Home Depot colored race shirt in hand (K-Swiss chose orange as the event color this year and all I could think of was Home Depot……I don't know if their marketing plan worked in my mind.).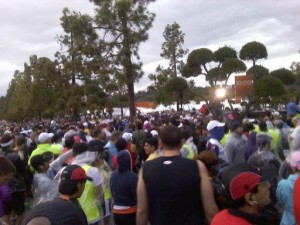 I was ready!  I had rested well after the Lake-to-Lake 50m relay two weeks before and was feeling strong.  My nutrition hadn't been great……….okay it had been horrible………but I was running this to have fun and experience a new venue not for a personal record.  It looked to be a great day until I heard the weather forecast………..
The National Weather Service was warning of a HUGE storm with its eyes on Los Angeles.  It was going to rain……HARD!  I decided to wear my compression socks, capris, long bra top, sleeveless shirt, arm warmers and a running hat.  I've had plenty of runs in the rain so I folded up a garbage bag to carry with me in hopes of keeping some part of me dry and slathered on the Body Glide in all chaffing prone areas.
Sunday morning was cloudy but dry.  It had rained the night before, but was drying out a bit when we got to Dodger Stadium for the start.  The Stadium was packed by 6:00 a.m. and everyone was ready for the 7:25 start.  I was bundled up in my warm layers and feeling pretty good.  This was the first time I had raced alone for quite a while, so I pulled up a piece of asphalt and watched the many faces of Los Angeles prepare themselves to run.  L.A. is a crazy town and the people who live there are even crazier.  There was representation from every walk of life you could imagine.  Short.  Tall.  Thin.  Fat.  Old.  Young.  Athlete.  Non-Athlete.  Tatooted and more tatooted.  Dressed up and dressed down.  There was a professional summo wrestler weighing in at over 400 pounds going for the World Record of being the heaviest person to ever finish a marathon.  Flea of the Red Hot Chili Peppers was running the event for charity.  The McRunner who had only eaten McDonald's for 30 days prior the race was there too.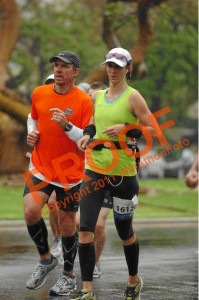 The start was HUGE!  There were people everywhere.  To think that even with that crowded of a start line that only 1% of the population will actually ever run a marathon is mind boggling…….there are a lot of people in this world.  It felt like the entire city was there ready to conquer 26.2 miles.  I stripped down to my race gear and the rain drops began to fall…….They wouldn't stop for the next 12 hours.
The Los Angeles Marathon changed its course last year to what they call "Stadium to the Sea".  The race starts on the hill at Dodger Stadium and heads through downtown Los Angeles, West Hollywood, and Beverly Hills to a finish on Ocean Avenue in Santa Monica.  If you want to see the sights of L.A. this is the only way to travel.  Roads are dedicated to the runners and you get to see everything up close and personal.  Kudos to an amazing course L.A.!  They don't get much better!  The elevation profile rolls a bit, with only a few short steep hills mostly in the first 10K.  The course gave me just enough to work with.
The first 10K heads down and out of the stadium through China Town and the downtown areas of Los Angeles.  With so many runners you are lucky to stay on your feet and not trip over one of the thousands of feet pounding the pavement or one of the discarded pieces of clothing that is carpeted along the first mile.  Dodge and weave is the name of the game.  Good thing I'm sort of a professional at that…….bad thing is……I really had to pee!
It was a cool day, about 50 degrees, and I had hydrated well with gatorade prior to the start.  With the start being so crowded there was no last minute potty stop and my bladder was FULL.  I knew I was going to have to hit the potty soon after the gun went off.  Apparently I wasn't the only one.  The stadium was lined with men with their backs to the race.  I found myself exceedingly jealous at the ease in which they could relieve themselves.  I knew that I was going to have to wait for the actual porta-potty as there aren't a lot of trees to hide behind in downtown L.A.  At the first aid station the lines were just too long.  I wasn't going to wait.  By Mile 2, I was so uncomfortable that I lined up behind 8 others waiting for my turn at the John.  It was frustrating, but I reminded myself that I was here for fun and not for a race.  I calmed down and stopped to smelled the hand sanitizer 🙂
My first 10K took 1:01.  Between the potty stop and the crowds it was more than slow.  I was feeling good though.  My left glute had been pretty tight lately and seemed to not want to give up.  I honestly was a bit concerned because I had expected it to loosen up as I went along.  It wasn't hurting, just tight.  I tried to tune into the crowd and entertainment and forget about the glutes.  I was just going to run.
As we headed into the Silverlake areas of the race course the rain really started to come down.  I wasn't cold at all, but thought that I would pull on the trash bag to try to stay sort of dry.  I don't think I was actually dry to start with, but it helped to break the wind.  Before we knew it, it was pouring.  Buckets!  Sheets of rain!  It would come and go.  I would put the trash bag on when it poured and took it off when it drizzled.  I really don't think the rain ever actually stopped.  It was a bit windy in spots and a lot of the mile markers, which were blow-up arches, had to be taken down.  My GPS was misbehaving and so it was only every so often that I actually knew what mile we were on.
We wound our way through some of the worst parts of L.A. What I found most interesting was that in the most downtrodden parts of the city were the best fans!  They would sit in their apartment windows and on their makeshift balconies and cheer loudly while banging their pots and pans.  IT WAS AMAZING!  They inspired me!  It was like they knew suffering and could in some way relate to the challenge of what we were trying to accomplish that day.  Their everyday lives are probably a marathon effort.  I remember one old woman I could see behind the curtains of her apartment window.  She was old and tattered, but cheered with the rest of her neighbors.   I just couldn't stop thinking about what her life story probably was.  I almost wish I could have known her……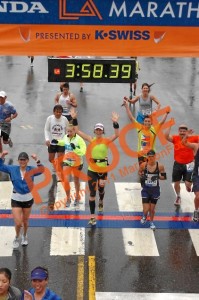 We ran into West Hollywood which is rich in all things "interesting".  The rain had finally taken it's toll on the ground around it and was just running through the streets.  Where I once tried to dodge large puddles, I found myself just running straight through them…….ankle deep in some spots.  I was soaked.  It was no use trying to keep "dry" anymore.  Aid Stations were well stocked and if there wasn't an aid station there seemed to be random people just handing out food and water.  I used my better judgment and stuck to the marathon approved stations.
We were on the historic Hollywood Blvd and the Sunset Strip and I finally had some perspective on where  I was.  These were places I had seen behind our windshield while fighting major traffic jams, but today, the road was mine.  I could read every billboard and glance at every point of interest.  I WAS LOVING IT!  The Hollywood sign was just to our right and all I could think of was my little girl singing like Hannah Montana in Party in the USA, Look to my right and I see the Hollywood sign/ This is all so crazy/ Everybody seems so famous.
The half-way point had come and gone.  I was soaking wet, but warm.  I was feeling strong and feeling good.  The glutes had finally figured things out and I felt like I was flying.  I even contemplated whether or not I was going to be able to keep the pace.  The only annoying pain was the chaffing that was starting in the nether regions of my pants.  Okay, this may be too much information, but I knew that I was in need of vaseline and FAST!  I was chaffing in an area of the body that was quite sensitive and I was sure that I wasn't going to make it very far if the chaffing got much worse.  Like an answer to a prayer a volunteer handed me vaseline which I promptly stuffed down my pants with no regard to what any spectator might have been thinking.  Ahh!  Much better!
Though I was surrounded by thousands of other runners, everyone seemed to be doing their own thing.  This was the first time I decided to race with my IPod.  I had prepared a four and a half hour playlist (just to be sure I had enough music).  I would pop the ear buds in and out as I "needed" them.  There was so much to see on the course that most of the time I just ran with one ear bud in so I could hear all the motivating commotion around me.  A guy named Matt started to run with me and we chatted.  His mother lived in St. George and he had runt he St. George marathon.  We complained about the weather for a while and talked about Southern Utah.  It just amazed me that of all the people I bumped into on the course, this guy would have a tie to St. George.  It truly is a small world.  My pace was a bit fast for him and he decided to head off on his own.  I was feeling good and we were headed into Beverly Hills.  Couple of Clif Bars down and I was still feeling great.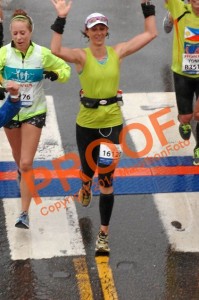 I had never been down Rodeo Drive before and was kind of excited to get to see it.  What struck me was the change in the crowd.  We were now in one of L.A.'s most exclusive shopping districts and probably one of it's most famous streets.  The crowd was subdued and wore mostly black trench coats.  Where the other spectators had been wild and crazy (e.g. the cross-dressing cheerleaders of West Hollywood and the pot banging shop owners of Silverlake), they were a little stiff.  It's Beverly Hills, I guess.  Such an interesting dichotomy.
Mile 18 was quickly approaching and I was tired, but good.  At Mile 19 we were running the hills up and down Santa Monica Blvd and got the perfect view of the L.A. LDS Temple.  It is a beautiful building right in the heart of the business district.  It, of course, reminded me that it was a Sunday and I probably should be in church, so I took a moment of introspection and then continued on with the race.
Mile 19 through 22 have some rolling hills that serve as a reminder that you have already run 20 miles.  I was feeling a bit tired, but still had it together.  We hit San Vicente Blvd and I knew we were on the home stretch to the ocean.  The puddles had grown by mammoth proportions and racers found themselves navigating sidewalks and alternate routes around the water.  It was still pouring and I was soaked to the bone.  I could see that the rain was really starting to take its toll on those around me.  At one point I saw a guy standing still shivering harder than I've ever seen someone shiver.  His running partner was looking for a discarded trash bag to put over him.  This poor guy was clearly hypothermic and needed more than a trash bag.  I put my head down and pressed on.  I was warm enough, but I knew it was going to be cold when I stopped.
About mile 22 I felt something gnawing at my right heel.  I knew exactly what it was……Blister Number 1.  It was bound to happen.  Your shoes cannot get so wet that they a squishing out water without your feet blistering.  Once again Vaseline was at my side and I shoved a huge glob under my sock.  It took the edge off.  I was so close now.  It was just a matter of one last turn and a race to the finish.
We rounded onto Ocean Ave. and I knew that I would be running a sub-4:00.  I heard the 4:00 pacer yell that the finish line was about 4 minutes away (he must have started well before me).  I could see the finish line arch and honestly couldn't believe it was 4 minutes a head of me.  It seemed so close.  It was 4 minutes.  Four kind of long minutes.
I finished in 3:50.08 and was so happy!  I felt great.  I can honestly say that this was the first time in my 6 marathons that I crossed the line and felt so good.  I was strong.  I was good.  I was a marathoner once again.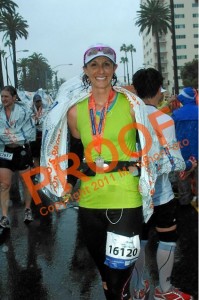 My nutrition had been spot on.  I had taken Gu about every 5-6 miles.  I had two small clif bars between miles 15-17 and drank gatorade all the way through (I knew I needed the sports drink with the cooler temps).  As I crossed into the finish area I realized that all was not well with everyone around me.  People were throwing up and shivering uncontrollably.  It was just a matter of minutes until I was shivering as well.  The wind was whipping and the rain was blinding.  I was so glad that I was done and didn't have to survive the brunt of the storm that Mother Nature was about to drop.  I put my garbage bag back on to cut some of the wind and grabbed a heat sheet for another layer.  I was so glad when my cell phone was still working because I figured it would not after all the rain it had been soaking in.
Adam was not far away from me, but I just couldn't figure out how to get to him.  The crowd around the exit to the finish line was so tight that runners were in one single-file line trudging through umbrellas and strangers.  I wanted to scream "BACK UP", but I was shivering so hard I don't think I could.  By the time I finally made it through the "death march" I was a block beyond where I was suppose to find Adam.  I stopped and stood next to the intersection and decided it was better to stay put then keep walking.  Adam would find me.  A spectator was taking pitty on me and was sure I was completely delirious.  I wasn't delirious, just boarding on hypothermic!  I needed something dry….STAT!
Adam and his dad walked up and, bless their hearts, brought me a dry towel.  I layered the towel underneath the garbage bag and heat sheet and continued the walk to the muddy Finish Festival to find my gear bag.  I had a dry jacket and pants in that bag if I could just get to it.  Unfortunately, that was not going to happen.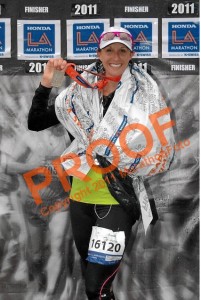 The gear check was complete chaos.  Volunteers were letting runners search for their own bags which meant that any organization that existed was gone.  My bag was no where in the vicinity where it was suppose to be, so I gave up after one guy told me he had been waiting for 30 minutes.  I was done.  I'd brave the rain and shivers and find our way back to the car.
Adam and his dad had found a great parking space (by Santa Monica standards) and it was only a few more blocks.  I tried to recount the race to Adam on my way to the car in between chattering teeth.  I have never been more grateful to get to a car.  The shivering continued for about 30 minutes and I'm sure Adam and his dad felt like they were in a sauna on the way home with the heat blasting to keep me warm.  After a hot shower and some dry clothes, I felt great.  Mother Nature didn't let up for the entire rest of the day and night.  I felt so bad for all those marathoners still battling the course.  My hats off to any of you who finished after 4 hours.  You ran MORE than a marathon that day!
So, my Marathon Challenge Part 2 was a success.  I was thrilled with my time of 3:50.  That was my third fastest marathon and I actually think it would have been a PR, but for the potty stop and the slow first 10K.  I loved it L.A.!  I will be back!