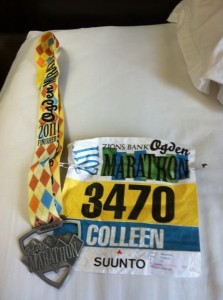 "It's a long, hard road and it's going to have its bumps; there are going to be times when you fall and times when you don't feel like going on anymore, times when you're just crazy tired but it takes focusing on that one step you're taking. That's what I'm trying to do with the marathon; I don't think about the miles that are coming down the road, I don't think about the mile I'm on right now, I don't think about the miles I've already covered. I think about what I'm doing right now, just being lost in the moment."
~ Ryan Hall on running a marathon
I read this quote by Ryan Hall on Cory Reese's Blog (for full-disclosure I don't know Cory…..but I really think I should…..he's hilarious!) and totally stole it because it fit so well for this post.
So this weekend, I wrapped up my Spring Marathon Challenge.  If you haven't been following along, I caught a strange disease sometime in January and signed myself up for WAY TOO MANY marathons 🙂  On March 5th,  I ran the Lake-to-Lake 2-Man 50-Mile Relay Race; March 20th, Los Angeles Marathon; April 18th, Boston Marathon; and finally May 21st, Ogden Marathon.  This disease is highly contagious and you may want to stop reading this blog immediately as not to become exposed.  There is no cure!
How it is the end of May and the Ogden Marathon is now behind me……I do not know!  Last Friday, my sweet 5 1/2 year old little girl graduated for the second time from preschool.  The pomp and circumstance concluded and I hoped on a flight to Salt Lake to meet up with my running partner Anni for our final preparations for the race the next morning.  The weeks leading up to Ogden have been nothing short of AWESOME.  I started training under the watch of HT Training and Coach M the week after the Boston Marathon.  Coach M has put me through my paces, and it has only been a few weeks!  She had me running faster and harder than I had run in a long time.  My body was feeling great and responding well.  I found myself anticipating Ogden, not only as an end to my Marathon of Marathons, but as a chance to race on a PR-ready course.  I knew that given a good day, I was primed for a GREAT race.  Or so I thought……
The weather had been less than favorable in Northern Utah for more than a week leading up to the race, but the forecast for Saturday was "marathon perfect".  Lows in the 40s and highs in the 60's with partly cloudy skies.  You honestly couldn't ask for better than that.  It "could be" the perfect day.  Anni and I checked into the Comfort Suites and was given a room with 20-foot vaulted ceilings…….I know I'm tall, but this was a little much……..right next to the elevator.   We promptly headed into town for dinner and stumbled on the Timbermine Steak House.
It was a weird, dark, antique steak house, with amazing croutons 🙂  Anni and I had their chicken breast dishes and shared a side of fries……..I'm sure the waitress was curious why we would both have baked potatoes and then ask for a small side of fries…….A girls gotta indulge every once in a while you know!   The food was good, but I definitely would love to go back and try their famous steaks.  I didn't know how well steak was going to sit in my pre-race tummy, so I figured I'd pass until next time.  The best part about the steak house is that it was located right outside of Ogden Canyon and on the actual race course.  We got a glimpse of the canyon and the spectacular views in store for the next morning!
Anni and I were off into town in search of our pre-race ritual icecream.  On our way to dinner we had passed the Farr Icecream Shop and knew that our evening would not be complete without one of their famous icecreams!  We took a number and jockeyed for position in the packed store.  Clearly, runners LOVE icecream and we are not the only ones with icecream in our pre-race plans.  I had a two dip rocky road in an waffle cone and Anni had some minty combination in the same cone.  As soon as the kid handed my cone over the counter I knew that one dip would have been enough.  The cone and icecream was HUGE……and it was DELICIOUS!  Anni and I giggled as we chowed down our cones and answered questioning onlookers with the look of  "Yup!  We're about to run 26.2 miles and YUP!  we are going to eat ALL of this icecream!"  Ha!  It was hilarious!  Did I say mention how good that icecream was?!?!?
With our pre-race "needs" wrapped up and bib numbers ready for affixing, we headed back to our hotel.  I set out all my clothes and gear for the next morning and hit the sack.  I COULDN'T SLEEP!  For the life of me I COULDN'T SLEEP!  I didn't feel nervous.  I felt very relaxed laying there.  Anni was not snoring.  I couldn't figure it out.  It may have been the constant DING of the elevator or maybe the people who found the need to knock on doors until the early morning hours.  Whatever it was…..I COULDN'T SLEEP!  I never have a problem sleeping.  I just banked on the fact that I had slept well the nights before and one sleepless night wouldn't do to much damage.
Apparently, I fell asleep as some point because I woke to my phone buzzing that it was 4:00 a.m.  I'm a morning kind of gal, so this doesn't shake me too much.  I headed to the bathroom and scrolled through my e-mails and Facebook.  I noticed that my husband had posted something a few hours back to the effect that my little boy had been throwing up.  Just what a mother wants to hear.  I'm out of town selfishly about to run 26.2 miles on a beautiful day and my little guy is puking his guts out.  I called Adam immediately……..He's not a morning person!  He said that Jake had thrown up twice but was sleeping well and didn't seem to have a fever.  I felt a bit better and was so grateful for a husband who knows how to roll with the punches.  He wished me a guilt-free run and sent me on my way.  Gotta love him!
Anni and I found a perfect parking place close to bus loading and the finish line.  We were on the bus just after 5:00 a.m. and our bellies were full from our breakfast.  I continued to sip on my Gatorade as I knew it was going to be one of those cool runs that I wanted to make sure my electrolytes were ready for.  I had already eaten my big bowl of oatmeal and would eat a banana about 30 minutes before race start.  All in all, I felt hydrated and ready to race.
We got to the top of the course and were let out into the cow pasture to wait for the starting gun.  I promise it was a cow pasture.  There was clear evidence to that fact and it wasn't in the porta-potties 🙂  I peed as much as possible before race start because I really didn't want to have to stop mid-race.  I was definitely hydrated.  We headed up to the start and the gun let us loose.
The start of the race is a beautiful descent that you hardly notice, but for your lighting-fast splits.  The warm sun was coming up at our backs and I found myself down to my tri top, shorts and arm warmers by Mile 2.  My splits were great.  I was hitting about a 7:30 average and feeling good.  I was worried that I was going out too fast, but I felt good.  My legs were strong and my breathing was under control.  It didn't feel hard at all.  As I approached 10K I knew I was going to need a porta-potty.  I definitely was hydrated…….but I was also starting to feel a bit "off".  That's the only way to explain it.  Something just wasn't "right".  I took down a GU and some water and hit the bathroom.  I peed a good amount and my bladder was much happier.  I continued on, but still just wasn't feeling right.  I wasn't sick.  My legs felt strong.  It just felt harder than it should have been.
My pace slowed a bit as I hit the rolling hills and the half-marathon point.  I noticed that I was actually feeling kind of light-headed and dizzy.  Not terrible, but definitely not RIGHT!  I went through the standard check-list in my head.  I was drinking, I had been eating.  Maybe I needed more to drink.  Maybe I needed more food.  I chocked down a GU and a Clif Bar and started sipping on the Powerade on the course (I was carrying gatorade mixed down with water).  It seemed that the more Powerade I had the better I felt, but I was really starting to feel the "hills".  Ogden is not a hilly marathon……but it sure was feeling hilly!  I made a deal with myself to just make it up and over the hill at Mile 14 and to the mouth of the canyon where I would encounter the steepest descents of the course and hopefully feel a bit better.  Yeah!  No!
The downhills felt just like the up hills.  Heavy.  Off.  My head was no longer floating, but I still was feeling off.  My belly felt like it was full!  At one point I actually loosened my Fuel Belt because it felt tight.  I must have been bloated a bit.  My bladder was letting me know that another potty stop was in order and I dove into an open john.  Nothing!  Not even a dribble.  But I felt like I needed to go!  On I plodded finally giving up on any PR hopes.  I decided to just pull out of myself, enjoy the rest of the race and JUST FINISH!  It didn't matter the time.  I just needed the finish line.  My splits were increasing dramatically and I found myself walking more and more.  But I still swear I needed to pee.
I hit another john down the road and decided to take a breather and see if I just needed to give myself a bit more time to do my business.  Still nothing…..NOTDA!  Not a drop!  This was getting weird.  My belly felt full, but nothing was coming out the other end.
On and on I went.  I tried to distract myself with just about anything.  I just needed to get out of my head and finish the final few miles.  I hit the mouth of the canyon and on to the river trail to the finish.  I knew I was close, but I was feeling so discouraged.
The Ogden race consists of many races all starting at the same time in different places.  There was a Marathon, Marathon Relay, Half Marathon and 5K.  I was starting to catch some of the slow half marathoners.  I came upon this woman, whose face I never saw,I just saw her limp.  She was not a runner.  She was barely a walker.  I could tell that an injury or disease had left her with a dramatic limp on one side.  There she was limping along as quickly as possibly and, as far as I could tell, happily.  Then there was me.  Two good legs and the strength to accomplish anything I set my mind to.  I had run 4 marathon distant races in the past three months!  WHAT WAS I SO DISCOURAGED ABOUT?  If she can pull her body over this challenge, I can finish these last few miles.  I dropped my head with only one goal in mind.  To finish.  To finish with my head held high, no matter what the clock had to say.  It is a blessing to be an able-bodied person.  It doesn't matter what time I come in.  I was accomplishing something nonetheless.  It didn't matter what time OTHERS thought I would run or even what time I thought I would run.  Right now I was running and I was finishing!
I rounded the corner to the home stretch of about 10 blocks.  I could see the white tent at the finish and focused all of my energy on that darn thing.  I pulled the headphones out of my ears and let the crowd carry me home.  I was never so glad to cross a finish line.  I took about ten steps after the finish and leaned on to my legs to compose myself.  I just didn't want to run anymore.  Medical was on me like fly to poop, but as soon as they knew that I didn't need a bucket or a stretcher, they left well enough alone 🙂  I made my way to the finishers area, grabbed some water and bread and clamored to the ground.  I was just going to sit there for a bit.  My legs were twitching and the memories of the prior hours were already beginning to fad.  I pulled myself back to my feet and over to the results kiosk because I was really wondering what time I had just run…….3:44:31.  Not my fastest marathon, but far from my slowest.  I had to congratulate myself a bit because only a few years ago, I would have KILLED for a time like that.
After tracking down Anni, showering and a quick ride to the airport, I was comfortably floating off to sleep high in the sky on my way to Cedar City to see my kids.  Later that evening I as feeling good and had a chance to visit with Coach M.  It took her about two seconds to figure out what was "off".  I was in an electrolyte imbalance situation.  My body needed sodium.  It wasn't functioning properly.  It couldn't utilize the fluid and fuel I was putting in because it was missing a key component.  It totally fit!  I knew she was right.  There was not much I could have done during the race to remedy the situation (short of stopping and finding sodium pills), but I learned a valuable lesson.  I'm getting stronger.  I'm racing more intensely.  I sweat like a horse.  (My tri top was coated in salt by the end of this race.)  A simple imbalance of one key mineral changed the entire course of my day.
In the days after the race, I've decided that I have to have bad races.  Like life…….I have to have the bad to appreciate the good.  How great will the next PR feel?  How wonderful is it be to know that I learned something about my body in those 26.2 miles that will do nothing, but make my next race BETTER!
It is so hard to step out of our own heads sometimes.  It is difficult to turn away from the pressure to perform each and every moment of our lives.  But at the end of the day, none of us can be ON all the time.  If that were so, ON wouldn't be so sweet.  ON would just be normal…..everyday.  It would make us lazy!  I'm all ready for the do-over, a rematch.  I want to tackle Ogden again!  NOW!  With salt pills in my pocket, I want another chance.  I am a better athlete for this experience.  I go forward knowing more.
So, Ogden is in the books and so is my marathon challenge.  I'm so happy to be moving on to another chapter.  Triathlon season is here and I feel so good about the prospects.  I leave this Spring with a different body, a different mind, and an entirely different respect for myself.  Back in February, I didn't know what I was asking my body to do in completing 4 marathon distance events in 3 months.  I'd never asked myself to do anything like that before.  I feel like I hit it out of the park.  I ran well and learned valuable lessons.  So here's to good races and bad races alike………Looks like I'm due for an AMAZING one next time!