Poor Boise 70.3 has such a bad rap!  This early season race does nothing but struggle with weather conditions.  Last year it made for epic photos of athletes riding their bikes on a shortened course to transition.  So of course I decided to sign up this year………Not quite.
At St. George 70.3 Ironman offered the triathlon club members a guaranteed entry into Ironman Arizona (140.6) next Fall if they registered for Boise 2013 (seems like 2012 scared a lot of athletes away).  I jumped at the opportunity.  I honestly had no intention on going to Boise, I just wanted the entry into Arizona next year.  After rallying some of my favorite ladies, Amber Foster and Breanna Nelson, we decided to make the trip to the race.  TONS of other Southern Utah athletes followed, making it a pretty impressive group from our area!
Boise 70.3 2013 weather conditions ended up being the polar opposite of last year.  Whew!  The forecast was for hot temps, clear skies and moderate winds.  With a Noon-time start there would be no wetsuit riding this year!
The swim venue was beautiful with crisp water and temps in the upper 50s…..maybe 60 degrees (I doubt that though).  The bike course, looked GREAT.  Moderate climbing, enough turns to keep it interesting, and some downhill segments to gain some speed.  The run course is more or less flat and along the shady Greenbelt trial along the Boise River.  I was VERY excited for this course as it seemed to suit me………even if I hadn't tapered and had been doing epically long workouts for weeks since St. George.  I was just out for a FUN day!
After the normal anxiety-provoking moments of setting up T1 and making sure everything was ready to go (like a leaky hose from my water system), I was in the water waiting for my wave start.
My swim wave was ladies aged 35-39 and was not very big.  Perfect really.  I locked into my normal outside position and was out and away from the mess in an instant.  With my new Aquaman ART wetsuit I was feeling GREAT!  I was warm enough and didn't even have frozen toes and hands.  I slid into a few draft lines and felt like I was swimming okay, but the water seemed rough.  That rough water continued to get choppier as we rounded the first of two turn bouys.  I hesitate to say that the swim was horrible.  It was choppy.  That annoying kind of chop that makes you feel like you are swimming pretty well, but the clock at the end tells the honest truth.
Swim:  36:22 (this includes a decent run up the boat dock).  Can't say this is the best swim of my life 🙂
T1:  3:12
As soon as you leave the swim venue you head down a beautiful sweeping turn.  At that point it was clear that this bike was going to be windy.  Kind of like the water, this wind wasn't anything to really write home about, but was a consistent 15 mph (gusting to 20mph) out of the North, the main direction we were headed for the next while.  I just kind of tucked in there and got the work done.  Though the climbs are smooth moderate grades, they felt steep.  It seemed that no matter which direction we turned we had wind in our face.  If there was a downhill spot, there was a head wind.  The crosswinds were manageable, but it was clear that this bike would be a challenging 56 mile grind.  Mentally I figured, what the heck.  Just ride strong!  The worst that happens is you blow up the run.  I can think of far worse things 🙂  Like the swim, nothing spectacular, but I'll take it.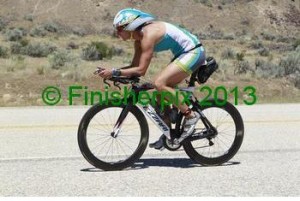 Bike:  2:49:12
T2:  1:52
I certainly was happy to be off the bike as my legs were tired.  Those legs have pedaled and pounded A LOT of miles in the past two weeks.  I didn't expect to be anything close to fresh and was just hoping to be solid and hold strong.  My nutrition seemed to be on track and I was taking in plenty of electrolytes to manage the heat.  Usually coming off the bike I need to make a potty stop, but didn't.  My hydration could have been a bit off, but I was feeling well, so I didn't worry.
Coming out of T2 my legs were a bit stiff and heavy, but seemed to work themselves out on the first 3 miles.  The run course is a double loop course that circumnavigates (….isn't that a nice big word for this blog) the Greenbelt Boise River trail.  I really enjoyed the course, especially on the second loop.  We traversed the river a few times and had plenty of shade to help with the blazing sun. Temps were in the upper 80s, but being from the Southern desert, I was just fine.  I was glad my my legs came around and felt that I was running strong.
Over the past few months I have really been concentrating on my running form.  It has actually changed COMPLETELY!  I feel like a new runner!  The speed is still to come, but my body is responding well to my running (something I tend to struggle with).  I don't seem to "hurt" when I run.  Sure!  Running is hard, but my joints and muscles don't seem to pay for the punishment like they use to.  I LOVE IT!  I'm using my Altra shoes the way they were designed to work!  No heel strike.  Floating through the air! I could feel that I was moving well and continued to pick up a bit of speed during the second half of the run.  (Have to thanks Trevor Smith and the Dixie Regional Acceleration Program for this run because of all the time they have put in on my behalf to make these legs WORK)!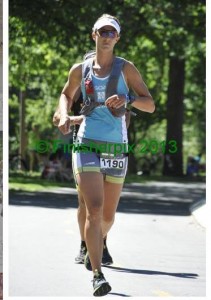 The only problem on the run……..NO BATHROOMS ANYWHERE!  I didn't know if I needed to go to the bathroom or not, but I kind of wanted to try 🙂  No luck.  I didn't see any porta potties.  I guess there were some there, but even the volunteers who I asked didn't seem to know where they were hidden.  Luckily, there were no "emergencies" and it probably would have just wasted time had I had the opportunity.
For this run I decided to pull out my UltrAspire Revolution Pak.  Yup!  I'm like a pack-mule and I LOVE IT, especially in this pack!  I usually use a waist-pack, but I'm a COMPLETE convert to the shoulder pack (nothing to bug my belly) and this worked seamlessly for me on this run!  I had hydration and sodium at my fingertips and even my own little garbage slot 🙂
As I approached the final 3 miles of the run I tried to really stay focused mentally on the task at hand and not get caught up in anything.  I dedicated my thoughts each mile to a member of my family.  Adam at Mile 10.  Jake at Mile 11.  Sydney at Mile 12.  Whenever my mind would wander, I would think of something about one of those people I love.  I liked my little strategy.  Just don't tell Sydney she gets Mile 12 because that is the "hard" mile.  I love that girl, but she makes me dig deep, just like at Mile 12 🙂
Run:  1:48:19
I LOVE THE FINISH LINE!  Every time I feel low I think of what it would be like if I DIDNT make it to the finish line……..if I had to miss that opportunity……… It makes me fight because there is NOTHING as sweet as a finish line.  The last few 100 feet my friend Cherie Santiago jumped out with her smiling face and just made my day!  The finish line was AWESOME!  Everyone needs to be a rockstar for 30 seconds in their life and those moments are my rockstar moments.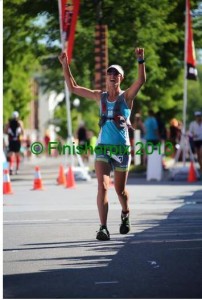 I was finished and I was feeling strong and happy…….just the way I like to finish!  Just behind me came Amber and then Breanna.  Girls who relax together…….race FAST together 🙂
Finish Time:  5:18:57
Boise is a GREAT course and an awesome little town.  If I ruled the world and everyone listened to my suggestions, I would tell Ironman and the WTC to put this race in July or August.  It is too good of a course to suffer the penalties of early June weather in Idaho.
HUGE thanks to Amber and Breanna for this trip!  I wouldn't have wanted to go with ANYONE else.  Between your easy-does-it attitudes, our AMAZING food adventures, movies and just all around relaxing……..I HAD A BLAST!