Here it is!  My bike for sale!  If you are looking for a good value in a well-made and well-equipped bike…..THIS IS IT!  This bike has been well-maintained at local Southern Utah bike shops.  This is one of 3 bikes I will be posting for sale.  Keep checking back!
Giant Trinity Alliance 1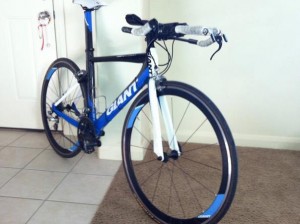 Purchased New August 2010
Raced 2011 Season
Size Medium (I am 5'10.5)
Shimano 105/Ultegra Combo
Visiontech Aerobars (with shifters)
Carbon/Aluminum Frame
Race Face Cadence Cranks ('53)
Pedals and Saddle NOT included.
Asking Price:  $1400
Check out this review for more information on the specs.
Review on Slowtwitch.com
Written by: Dan Empfield
Date: Thu Feb 26 2009
I'll break the suspense. This is the Giant you want, if you're choosing between the two Trinity models. The frame has rear entry dropouts, aero seat tube and post, sensible tri geometry and is made in what might be the premier bike factory in the World. When you think of the most august bike brands in Europe, like Colnago, and the most respected brands in America, like Trek, companies like these are very picky about the strategic partners they choose. And Giant is such a partner. Consider the TT bikes both Rabobank and Columbia are riding, notwithstanding the fact that Columbia is sponsored by Scott (a company that has a fine TT bike in the Plasma). The TT bikes are made by Giant (though the for-sale bike is still a work in progress).
But Giant's real strength is in its ability to churn out low and mid priced bikes, bike after bike, and have them be perfect, and priced dynamically. Enter the Trinity 1.
The genesis of this bike's geometry was a trip to a F.I.S.T. Tri Bike Fit Workshop by the then-product manager of Giant's road bikes. The geometries that came out of that experience found their way to the Trinity Alliance, and then to the Trinity. The seat angles are mid-steep at 78°, and the head tubes are reasonable lengths given the seat angles. These Giant bikes are much easier to fit aboard than any all-carbon TT bike that Giant is now, or ever has, made. These are easy bikes to ride.
Thematically, the geometry of the Trinity is in between two styles. It's not as "long and low" as the bikes made by Cervelo, Felt, QR, and Kestrel, and it's not as "tall and narrow" as the tri and TT bikes made by Cannondale and Scott. The Trinity models are a nice middle ground that'll fit a lot of riders.
This bikes sells for $1725 complete, and features a Shimano 105 group, with some cross- or down-specs, namely, a Race Face Cadence crankset and Tektro brake calipers. It's got a set of Visiontech clip-ons as the aerobar and a no-name but, one assumes, acceptably functional wheelset.
A nice feature of Giant's TT bikes is a seat post that has the hardware mounted on a set of "ways" that can slide a centimeter fore or aft from center (it is pictured adjacent). This means the bike is easily set up to ride at 80° or 81° if that's the config that floats your boat.
Come take her for a ride!  Contact me here.