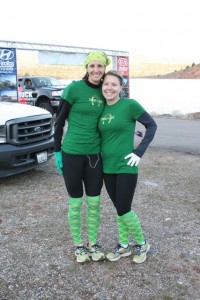 And so it begins………My marathon challenge has commenced.  Over 10 years of distance running, I've completed 5 marathons:  Marine Corp 2001 and 2002, St. George 2007, 2009 and 2010.  So what possessed me to run 4 marathons in the span of only 3 months…….It all began back in August when my beloved running partner, Anni, informed me that the Ogden marathon was about to sell out.  I was 6 weeks out from the St. George Marathon and a Boston qualifying attempt.  I was running well, so what the heck!  Ogden wasn't until May.   Registration confirmed.
St. George Marathon went somewhat as planned and Anni and I both had qualifying times and the promise to run Boston 2011.  Fate was on our side and we both were able to capture registrations even though the race closed out in only 8 hours.
Then came the Expedition St. George Relay in December.  I had never done a relay before and couldn't believe how much I LOVED IT.  Caught up in the event I pinky swore with Anni (okay maybe I convinced her to pinky swear) that we would run the next relay in March as a two-man team.   Again, registration confirmed.
We started planning a family trip over Spring Break for Los Angeles to visit my in-laws.  I need a good excuse for a long run while we are there and realized that the L.A. Marathon was running the same weekend.  PERFECT!  Registration confirmed.
So here is what my Marathon Challenge 2011 looks like.
Marathon #1:  Lake-to-Lake 50 mile Relay (2 Man Team)
Marathon #2:  L.A. Marathon
Marathon #3:  Boston Marathon
Marathon #4:  Ogden Marathon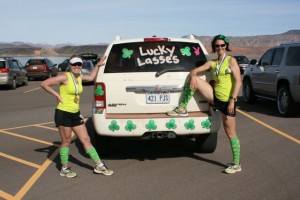 Lake-to-Lake 50 Mile Relay – March 5th
Since that first relay in December, I've been anxiously awaiting my next relay event.  Lake-to-Lake was it!  This event takes teams from Gunlock State Park West of St. George through the city and out to Sand Hollow State Park.  50 miles total, run over 10 legs.  Most teams consist of 5 people.  Anni and I decided we would do a 2 man "Ultra" team.  We had prepared our relay skills and were ready when the Saturday came.
I was slated to run the odd legs (1, 3, 5, 7, and 9) and Anni the evens (2, 4, 6, 8, and 10).  The first 3 legs were about 6 miles each.  The middle legs were roughly 4 to 4.5 miles.  The final legs, the toughest, with long climbs and longer distances.  We really didn't know what to expect and neither did anyone else, since no one we knew had run a distance event with this stop and go kind of plan.
After a crisp start at Gunlock State Park we were off.  Leg #1 was a perfect profile of descent with just enough rollers to keep me comfortable.  I was feeling great.  Flying……at least flying for me.  Right out of the gate, I knew it was going to be a good day and hopefully a good day for the entire Lucky Lasses team (such a cute St. Paddy's day theme!).
Anni's car was all decked out in green shamrocks and our long green socks were easy to spot coming into the exchanges.  We found ourselves running with the best of the female teams, splitting off with times that were under our predicted pace.
If you've never done a relay before it is hard to explain how hard you work during each of your legs.  You race each and every step……rest………and run hard again.  Anni and I just kept doing it again, and again, and again.  I found that I was able to hydrate and refuel very well in the 30-40 minutes of downtime I would have between each leg.  There wasn't enough down time for me to stiffen up.  Just enough time to digest and feel ready to hit it again.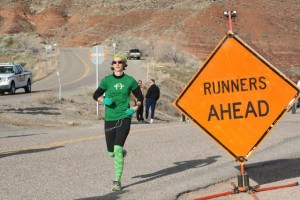 Leg #3 was solid and Leg #5 followed with even faster splits.  For me, I knew that Leg #7 would be a challenge.  It was a fairly flat profile on road that I am familiar with……Maybe a little to familiar.  Anni likes to call the roads the "never-ending road".   Those roads that in all actuality aren't that long but seem to just go on and on forever.  I was mentally prepared and broke the 5 miles down into three distinct parts.  This would be the one and only leg that I would be passed on, but I was able to make it up and pass the same person who passed me and even caught one more before coming into the exchange.  With Leg #7 behind me, I was climbing into the unknown with Leg #9.
Leg #9 was rated as the most difficult leg of the race.  It had some serious climbing on some seriously rocky dirt roads.  Lucky for me, my expectations proved far worse than the actual leg.  The climb was big….HUGE, but I think the shot of caffeinated Roctane I gulped (I DO NOT recommend Cherry Lime Flavor) helped out quite a bit.  The footing was challenging, but I just kept my head up and my feet light.  The leg finished on a hill and my day was done.  Almost 25 miles.  7:23 pace and some of the fastest times I had ever posted for the distance.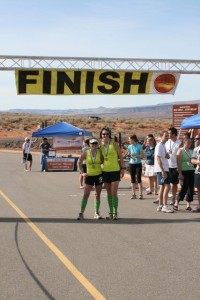 Our little two-man team ran in with a total time of 7 hours and 30 seconds.  25th out of 98 total teams.  1st Place in the Ultra Division (1 and 2 man team).  I WAS SO PROUD!  We ran hard and ran well.   Marathon #1 completed!
I've spent the past few days recovering, deciding to take about a week off from running entirely so my body would fully heal.  I've been swimming and biking, but otherwise just taking it easy.  L.A. is in less than two weeks and I know that in order to stay healthy for Marathon #2, I need to be conservative.
This challenge is so exciting for me.  So many times in years past when I have tried to run a lot of distance in a short period of time, I would find myself injured.  I'm older and wiser to the ways of my body now.  I've learned valuable lessons about my limits and when and how much they can be pushed.  I can run well and I can run fast……I just need to recover and listen to my body.
Los Angeles here I come!