I was at the final turnaround of the run course.  I had tried to work the slight downhill portions on the way out to make sure to keep my lead after passing the one girl in front of me.  I glanced around and she was gone, but there was the girl in red.  She had been back there all day and had not passed me once.  I was exiting the turnaround and she was just entering it.  I would need to just keep my cool and finish out the last 3 miles of this half marathon.  By the time I got to the final corner leading to the finish, I hadn't been passed.  Just feet away from the finish chute and my first WIN of the season!  I couldn't help but smile as I grabbed my daughters hand to run in the final few feet.  As we hit the mats in the chute and were approaching the arch, Sydney said, "Mommy, we are going to finish!"  I replied, "We are going to WIN!"  Then it happened……………….YOU GOTTA BE KIDDING ME!
Pumpkinman was my last race of the 2011 triathlon season.  I was going into it with mixed feeling and plenty of anxiety.  My season was suppose to end at Kokopelli with an Olympic distance race close to home.  But here I was, three weeks later in the 90 degree desert of the Lake Mead Recreation Area about to hit the water for another 70.3 (half-ironman distance) race.  I was so concerned about the climbs and rolling hills of the bike that I changed out my bike components.  I had more salt with me than I think any one person should digest.  After a few days of rest, my body felt pretty good, but my spirit was definitely ready for the off-season.  I had no idea what the day was going to bring.  Coach H had continually reminded me to just calm down, relax and HAVE FUN!  This was not MY race.  It was a race to enjoy………..I was going to try really hard to make that happen.
The water of Lake Mead was BEAUTIFUL!  The temperature was perfect for a sleeveless wetsuit.  I even got a bit warm towards the end.  My wave was small including only the 40 females and relays who would attempt this challenging course.  I got out quickly towards the front and was able to sight easily.  Even when I thought we would be turning into the rising sun and my vison would be blinded, we turned just enough that there were no problems.  Before the half-way point I found myself swimming with the men's wave who had entered the water five minutes before me.  By three-quarters of the way along, I was swimming with only the red caps of the men.  I knew I was towards the front and was feeling good about my efforts.  I knew I was having a decent swim because by the last 200 meters I was ready to be done.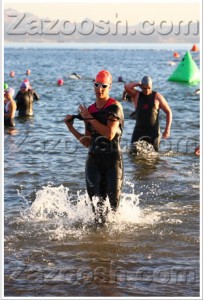 Pumpkinman is a large triathlon.  With 1200 racers in three different races (Sprint, Olympic and Half-Ironman).  The transition area was huge.  It took up nearly a quarter mile along the narrow boat ramp.  From the water to where my bike was racked was uphill and what seemed like forever away.  I stepped to the side and stripped my wetsuit as soon as I was out of the water and just before I crossed the timing mat into transition.  Swim 33:21 (includes stripping my wetsuit)
After what seemed like a long jog I was finally at my bike and headed out of T1.  I've been so happy with my transitions this season.  I really feel like I have nailed them down and do a great job of getting in and out quickly.  T1:  2:26
I mounted my bike and realized that I came out of transition with only one other female and we were in the lead.  We started up the hill to the highway until we came to a CLOSED AND LOCKED GATE!!!!!  What?!?!?!?  About 15 athletes were circling around yelling to one another about which way we should go.  A race official jogged up to the gate and realized it was locked.  When asked if that was the way we were suppose to go, he answered, "I have no idea!"  Come on race management……..This is COMPLETELY uncalled for.  I know there were other male athletes who hit this same road block before us…….someone was not paying attention.  So under the gate we all went.  After unclipping and dragging our bikes under the gate we were off with the wasted 2 minutes and 30 seconds behind us.  SERIOUSLY!?!?
The bike course parallels Lake Mead on Lake Shore Drive.  There is no part of this road that is flat.  As soon as you begin a nice decent, you head right back up.  It rolls and rolls and rolls for miles like this.  Though it is more uphill than downhill on the way out, the way back from the turn around has just as much climbing.  I jockeyed with the other girl that I left transition with and soon found out that she was from Salt Lake and her name was Caprice Schwarzwalder.  She is an amazing athlete with an even more amazing body!  You ROCK Caprice!  After a few miles another girl blew by us and Caprice kept on her.  I remembered the words of Coach H and just settled into my own ride.  I wasn't going to chase.  This was a hard course as is and I wasn't going to burn myself out on the way to the turnaround chasing after these ladies.  It turned out to be a good choice.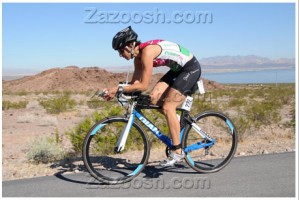 After rounding the turn around I was sitting comfortably in third.  There was a girl in red behind me, but she was a bit back.  I could no longer see Caprice and started to gain time on the girl who had blown her legs out trying to pass us on the way out.  As we came back into the area where T1 was located I passed her and headed up the final 6 mile long hill to T2.  Let me repeat that……..SIX MILE LONG HILL!  After 50 miles of rolly polly hills, you get to climb a 6% grade to your running shoes.  Temperatures were reaching well into the 80s and EVERYONE was beginning to feel the wrath of Pumpkinman.
The final climb is a slow climb for many reasons.  We were put on a bike trail which reduces your speed and any time there was even a slight downhill section there was a switchback that brought you almost to a stop.  I was still feeling good and just found a gear and stuck with it.  At this point I was passing numerous Olympic distance athletes which made the climb a little more interesting.  I had yet to be passed by any Half distance females.
I finally hit the top of the hill and descended the few hundred feet into T2.  I had a solid bike.  It was getting hot, but my nutrition felt good.  I was ready to run.  Bike:  3:06:04
T2 was pretty quick and easy, except for the fact that my HUGE bike wouldn't fit under the rack.  Being tall, this happens sometimes.  I had to lean my bike to one side in order to slide the saddle under the rack to be able to hang it.  It ate up a few seconds, but all, in all……not so bad.  The transition area was HUGE again, so though I was in and out quickly, the total time is much longer than it would typically be on a smaller race. T2:  1:41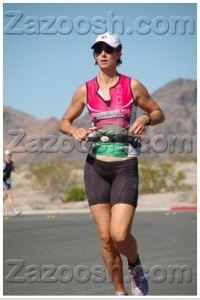 On to the run……..I've been running well this season and was feeling ready for this half marathon.  The first thing I noticed was that my legs were like lead.  They are always like lead out of transition, but after all that climbing, they were REALLY dragging.  It took over a mile for them to really come around and for me to stop thinking about them.
Once again, Pumpkinman delivers a challenging run course.  For the Half it is a double loop course that has some nice downhill stretches on the way out that you make back up on the way back.  The bigger issue is that the course is very exposed with NO SHADE and the temps were quickly rising into the upper-80s.  My nutrition had been great all day and I was still feeling quite good.  I continued with the salt and the calories and didn't seem to be suffering from the heat at all.  Every aid station I took the chance to douse myself with as much water as possible and the little bit of wind actually helped to cool me off a bit as it evaporated.  The best part was when I came to the second turnaround to head out on my second loop and I was handed a large water bottle filled with cold water.  I dumped that water all over myself and got a few swigs before throwing it down.  It was perfect.
Caprice stayed ahead of me on the first loop, but I was reeling her in.  I new she was not far ahead of me and by the end of the first loop I had passed her.  The girl in red was back there, but didn't seem to be making up any incredible time on me.  I was in first place………I, quite frankly, was shocked and GETTING VERY EXCITED!  I knew that I need to keep my lead and so I really tried to work the downhill stretches of the last loop.  They passed quickly and before I knew it I was at the final turnaround.  The girl in red was entering turnaround as I was leaving and so I knew she was there, but wasn't worried.  I just did my thing and ran it in.
I lapped up the last bit of salt I had (which had almost disintegrated from all the water I was dumping on myself).  Just FYI…..Salt pills taste far better in pill form.  Bleck!……I needed the salt so I licked up the gooey mess and chased it with some big gulps and swishes of water 😉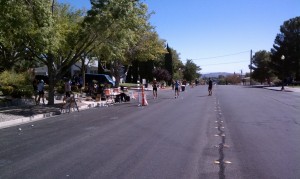 As I approached the final corner to the finish, I had not been passed.  I reached the top of the street and was about to turn into the chute area.  I tossed my Fuel Belt to my husband and Sydney came out to join me.  That kid LOVES crossing the finish line.  I took her by the hand and we made our way to the arch.  We were smiling and happy and I was EXCITED that I was going to win!  It was then, that the entire race shifted………..
Little did I know that as I was taking my daughter hand, the mysterious lady in red was taking the opportunity to sprint.  As I slowed to a five-year olds pace, she accelerated like she was running the 100 meter dash.  As my foot was hitting the timing mat, she flashed by Sydney.  MY CHIN HIT THE GROUND and I said, "You gotta be kidding me!"  All I could think of was, "she didn't just do that"……"who passes in the chute when someone is running in with their kid."  At this point, I tried to believe that I had snuck in under the gun and still held on to the first place position.  I turned to her and said,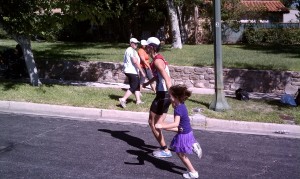 "You didn't just do that."  She returned my question with, "I didn't know it was you.  I saw you throw your Fuel Belt and couldn't imagine who would do that."  (Someone who didn't want a picture with their Fuel Belt on IS WHO!).  She said, "You got first.  I'll give you my stuff."
Again, I was holding on to the thought that my chip had registered before hers.  We chatted and laughed and congratulated other athletes at the finish.  Other than her punking me at the line…………I was feeling awesome!  My nutrition must have been spot on because I felt great!  I was tired, but my head was clear and I felt strong.  While other athletes were barely upright, I was feeling good.  The only thing that was even bothering me, was the blister I had rubbed on the bottom of my foot (too much water and shoes that you don't run barefoot in very much is not a very good combination).
And so it ended………Run:  1:43
Total Time:  5:26:32.  The girl in red:  5:26:32 BUT by hundredths of seconds she beat me.  She took home the first place plaque and a new pair of shoes.
There are many lessons I learned from this experience.  1-  Some people don't have the same level of ethics and sportsmanship as others.  2- We sacrifice a lot for those moments with our children that are priceless (just look at her face in those photos!).  3- A "win" may not tell the true story.  A plaque.  A pair of shoes.  A line on a race resume.  It is in the moments of the race that we truly WIN and for me……..I won Pumpkinman.  With an awesome physical effort and hand-in-hand with my daughter……I won that day and NO ONE can take THAT away!   I'm sure the now infamous girl in red learned to push until the final seconds.  Though, she has to know when she looks at those results………..she knows that this "win" for her has a big asterisk.
So here's to the end of the 2011 season………A GREAT SEASON!  Huge thanks to my sponsor PowerTri for helping me race this year and always supporting my efforts.  To my coaches Mahogani and Heath Thurston of HT Training……..I appreciate you guys more than I can express.  To my family, my friends and everyone who calls my name out on every race course……..THANK YOU!  Without you, I would be nothing.
Now it is time to R-E-S-T………at least until next weekend 🙂