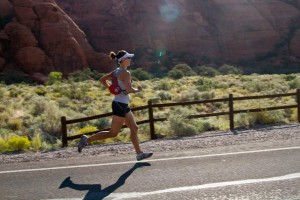 I had the opportunity to test out the UltrAspire Revolution Pak during a photo shoot back in September and since then have been itching to give it a "real" test during the St. George Marathon.  I did just that this past weekend.
During the photo shoot, the first thing I thought upon seeing this pak was "no way"…..I'm not running in that.  Way too big.  Can't be comfortable. I WAS VERY WRONG!  I slipped on the lightweight pak and was shocked as it basically disappeared on my body.  The shoulder straps are constructed of super light, well-ventilated mesh.  It sat on my tank top in the perfect position without any worry about chaffing on my neck.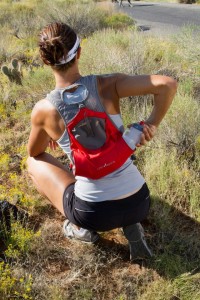 On the front of the pack there is a zip pocket on the left side, a drawstring pouch and waterproof smaller pouch on the right.  The zip pocket was perfect for my set of headphones and IPhone 4.  The drawstring held six packs of GU Roctane easily and I had a nice handful of salt pills in the magnetic pouch.
The rear of the pak is all about hydration and storage.  The Revolution allows you to carry one full-sized bottle with the option of an additional bladder and hose.  If you didn't want the bladder, the back large pouch would be perfect for lightweight gear or additional fuel.  For the marathon, I chose only the full-sized bottle as I was always close to an aid station.  The bladder would be an excellent addition for long, unsupported training.  First seeing the bottle system, I again, was a bit surprised at how easily the bottle slipped in and out just under my right arm.  It was single-handed in and out and when it was in, I couldn't even tell it was there.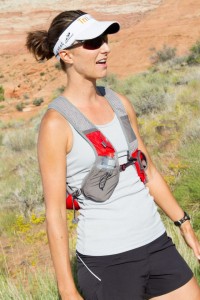 Having always been a Fuel Belt owner, I was impressed.  I've never really liked having a belt around my mid-section.  With my shape, anything around my waist always ends up inches above my belly button which looks and feels awkward.  With the Revolution Pak, I found it sitting perfectly still.  No bouncing.  No squeezing.  I LOVED IT!  There were straps to adjust the first on both sides and in the center across the chest.  I really never thought I would love a pak…..but I do!
Temperatures during the marathon reached into the 80s and I never once felt "hot" with the pak on.  I actually hardly noticed it was there.
The only complaint I had was the front closure system.  It is a hook and eye system which was secure and solid.  The adjustment strap however, seemed to slip too often and I was continually needing to readjust for the appropriate tension to keep the pak solid on my back.  When the tension was right, I was super comfortable.  When it wasn't it started to feel a bit sloppy.  I'm not worried about this problem, as UltrAspire is always testing and tweeking their products.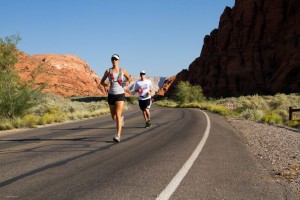 The Revolution Pack gets two-thumbs up from me.  It is definitely going to be my go-to training and racing hydration system for longer events and races.
*I am NOT sponsored by UltrAspire or their affiliates.  I've always been impressed by their company and the people who design their products.  UltrAspire is a local Utah company who deserves a look by runners everywhere.