My triathlon season has officially commenced and I'm so excited!  The first race of the season kicked off this past weekend in Park City and what a weekend it was……..I pretty much exercised no caution going into this race and broke the Number 1 rule of racing……..Never do anything in a race that you haven't done in training.  Never say never…..right?  🙂  Here is the list of "rules" I disregarded for Park City.
#1  Ride a new bike (or newly fitted bike) in a race.  This is kind of like spitting in the wind and trying to duck.  I left St. George early Friday morning headed to Orem to meet with my coaches at HT Training for a bike fitting.  The end of last season I purchased a new Giant Trinity Alliance TT (Triathlon/Time Trial) bike from Cedar Cycle.  The new bike didn't get much mileage in 2010, but has been my "A" bike as I've been training for the 2011 season.  It was about time to have the fit looked at.  I've never really had a bike properly fit to me.  Why?  I don't know.  I wouldn't buy a pair of shoes that didn't fit perfect, but yet I'd ride a bike with the hope that everything will fit work out fine in the end.  Heath adjusted pretty much every part that could be adjusted and dialed me into a surprisingly comfortable, more efficient and much more areo-dynamic position.  A couple of loops up and down the street and I was ready to race 🙂  The position felt different, but I found I was quite comfortable.  We even swapped out for a new saddle and I felt like I was riding a new bike.  I figured I would just blame Heath if things didn't go so well the next day.
#2  Add something new to your nutrition plan. As endurance athletes we stress over every morsel of food that touches our lips before, during and after races.  We know that it is never a good idea to add something into the mix that our bodies are not familiar with……..it could end badly…..very badly……..After my struggles with electrolytes at the Ogden Marathon I knew that it was time to start supplementing.  I hadn't really had a "long" workout where I tried out my new Metasalt tablets but figured what better place than a race to put them to the test.  I popped two pill (330mg of sodium and electrolytes) about 45 minutes prior to the race and I was off.
#3  Never wear something in a race, you have never worn before. This is kind of like Rule #1, but because of very cool temperatures I added some toe warmers to my shoes.  I knew I was going to need some protection for the piggies and I could not for the life of me find my toe warmers that I have been wearing for years………If anyone finds an extra pair that is not theirs, please let me know!…….I stopped by Cedar Cycle on my way through Cedar City and snagged a pair of new toe warmers that fit differently from my old pair.  I put them on my shoes and really started to wondered if they were going to interfere with clipping into my pedals.  When I got to T1 (Transition 1.  Swim to Bike) race morning, I took the bike out for a little spin and was happy to hear that comforting click when everything fell into place.
I knew full well I was taking some risks with my "rule breaking", but I took comfort in the fact that Park City was not my "A" race.  It was merely a means to a greater end.  Of course, no matter when I race, I want to be seamless……fast.  But I've matured enough in my racing to actually start prioritizing my racing goals.  Racing smarter…..not harder…..I guess   Not every race is going to be a PR, especially if I want that PR in something entirely different (like for me in a 70.3 (half-iron) distance event towards the end of the season).   So……..I just raced!
The morning in Park City was cold………actually almost freezing.  Temperatures were in the upper 30's.  St. George hasn't seen those temperatures since March and I was cold!  My blood has gotten thin.  Luckily it is still June and once the sun pops up things begin to warm quickly.  We were scheduled to hit the waters of Jordanelle Reservior at 8:20 a.m.  I have been stressing over this swim for weeks.  It has been an unseasonably cold and wet Spring for Northern Utah.  We are saved from any potential drought this summer, but the snow is still melting and the water is COLD! Jordanelle's temperature was reading in the mid-50s at best.  THAT'S SOME COLD WATER!  I was prepared with my long-sleeved wetsuit, ear plugs (which I never swim without) and a TYR Warm Cap, recommended to me by my coaches.  I mentally prepared for the worst.  Frozen feet, frozen jaw, gasping breath between strokes and barely functioning fingers.  I hit the water about 10 minutes before my start time and began the acclimation process.
In water this cold, you just can't jump in and start to race.  You HAVE TO warm up.  And by warm up, I mean freeze your brain off until the water starts to feel at least tolerable.   I stood in the water and "warmed my wetsuit" and proceeded to let the cold water seep down my back.  I dunked my head and was actually quite surprised that I didn't get a brain-freeze right away.  I swam a few feet back and forth and started to feel pretty good.  The swim wasn't going to be half as bad as I had envisioned.  I noticed right away that the TYR Warm Cap was keeping my head completely dry.  I think that was the key.  A dry head is a much warmer head, even when the rest of the body is submerged in far too cold water.  The countdown began and we were off.
I got into a groove quickly on the swim.  There were not many women racing the Olympic distance and so traffic in the water was minimal.  I honestly didn't have to dodge anyone until we began to catch up with some of the slower male racers in front of us.  As I stood up out of the water to begin my way up the ramp to T1, a volunteer quickly unzipped and stripped my wetsuit right off of me.  Wetsuit strippers are the best thing that has ever happened to the sport of triathlon.  I knew with my cold hands it was going to be rough to get out of my wetsuit by myself, but with the help of this volunteer, I was into T1 in a jiffy.  Swim (and wetsuit stripping):  25:56.
In T1 I was prepared for a cold transition to the bike.  I pulled on a long-sleeved jersey and some long-gloves.  I always hate cold triathlons because putting on all this gear really slows down transition.  This was also the first time I had raced an event with 2 different transition areas.  We had to pack all our T1 gear to be shuttled to the finish.  If it wasn't put in the bag, you probably weren't getting it back.  Packing isn't really my favorite thing to do anyway, but especially not while I'm in the middle of a race.  I stuffed all the really important things into the bag and I was off on my newly fitted bike and ready to fight the hills on the bike course.  T1: 2:32
The bike was FAR warmer than I had imagined.  I definitely was grateful for my long-sleeved jersey, but since we climbed right out of transition, and didn't really stop climbing for about 15 miles, I got a little warm.  I ditched the gloves within the first few miles and cursed myself for wasting the time to pull them on.  My feet were feeling good sockless in my shoes with the toe warmers and extra pieces of electrical tape covering the vents.  This course was FAR FROM flat.  The hills were not necessarily steep and did not require you to get out of your saddle, but they were steep enough to keep you out of the aerobars.
I had been a bit worried about the elevation of this race as well.  Living in St. George, I enjoy a nice saturation of oxygen at 2400 feet above sea level.  Park City and the top of this course is between 6500 and 7000 feet.  I ride a fair amount in Cedar City at about 6000 feet, but I hadn't been up in the real "mountains" yet, so I knew there would be some huffing and puffing.  My breathing and heart rate didn't feel out of control and so I just ignored it 🙂
The bike course is actually an awesome profile.  It is challenging, but the kind of challenging I like:  modest hills and fast descents.  The problem with this course is they crammed us into the shoulder of the road.  When I say crammed, I mean a bike width in some places.  As I reached the top of the first climb on SR40, I was ready to pick up some speed on a nice, straight descent.  No luck.  With rumble strips to our right and to our left everyone was in a straight line.  I couldn't pass.  It was against the rules to go outside of the coned shoulder and on SR40, I really didn't want too either.  There was tons of FAST traffic.  I found myself on the brakes and waiting behind two other athletes in front of me.  I wasn't able to break away until we made the turn onto SR243 and began to climb again.  The shoulder on SR243 was a bit better as far as width, but much worse with debris.  There was wood, metal, glass and potholes EVERYWHERE!  No hazards were marked and you really had to keep your eyes peeled, especially when descending.  I felt that I had a good rhythm as I climbed and tried to push a hard, but efficient gear.
SR243 was almost comical on the ascent.  It climbed, and climbed and climbed and climbed and climbed……..You get the point.  It is the straightest, longest climb, I have ever seen.  I didn't think it would ever end.  Again, not so steep of a grade as to get you out of your saddle, but just constant climbing about 5 or 6%.  I knew the downhill was going to be great as it was a straight shot with little to slow you down.  Unfortunately, the descent was not as fast as I would have liked.
Two things were working against me on the descent.  #1-I needed one more gear.  I have recently been playing with my components on my bike trying to dial in the perfect gearing for me and my needs.  Clearly, I need to drop the compact crank or get a new cassette with an 11.  For those of you who have no idea what I'm talking about, I was running out of gears on the downhill.  I was out-riding my pedaling so all I could do was coast……there was nothing to push.
#2- The shoulder was BAD!  You had to keep your eyes open as debris and hazards seemed to be everywhere.  The race management really could have done a better job with this and unfortunately it just got worse as the bike leg continued.
As I finished all the climbing and descending I entered a nice fast and fairly flat last few miles of the leg.  Once again, we were coned so far into the non-existent shoulder on this frontage road that I had to go outside the cones for my own safety.  There was no way I could keep control of my bike on the course they intended me to ride.  The frontage road was fast, but the potholes were HUGE and not marked.  I knew that I was taking a risk barreling down this road at 30+ mph, but I just prayed that I would stay on my bike.
Things got worse as I headed into transition and a semi-truck was backing across the course into a loading dock.  ARE YOU KIDDING ME?  Did no one notify them of the race that was going on.  The truck had just starting backing and I darted around him.  Yeah!  Not smart and I hope my children NEVER in their lives pull a trick like this, but I was NOT WAITING for the truck.  I was frustrated enough with all the other problems on the course.  I just wanted into that transition area.  Bike:  1:18:23.
I love T2.  It is short and sweet!  I had tied a Target plastic bag on the rack when I set up in the morning and that helped so much to find my stuff.  I racked the bike, changed shoes and dropped the long-sleeved shirt.  I was out.  T2:  :58
As I began running, I realized that my feet were frozen.  Not cold.  FROZEN!  I couldn't feel my toes at all.  I felt like I was running on top of a stump, rather than feet.  I turned out of transition and onto the trail to the cheers of friends and my coaches.  They told me to just keep going that I would feel my feet soon enough 🙂
I was in T2 with another female and she exited just seconds ahead of me.  I knew that my job for this leg was to run her down.  I knew that I was sitting in 4th place and if I caught this girl, I would secure myself an overall spot.  I really wanted that overall spot.  I decided to calm down and run my race.  I didn't want to do something stupid in the first 2 miles of the 10K that I was going to pay for in the last miles.  I held a steady pace.  I was breathing hard and definitely feeling the run.  I knew I was running hard, just didn't know how hard.  No watch.  No GPS.  This run was all on feel.
The run took us towards Park City on a biking/hiking trail.  I did not realize that much of this trail would be dirt and gravel.  I don't mind trail running, it was just not what I expected.  The run was pretty lonely.  There were lots of twists and turns where the people just ahead of you would vanish out of site.  There was a good 2 or 3 mile stretch where I didn't see my "rabbit".  I just kept running.  At almost half-way we entered a sub-division and made a large circle through the neighborhood before doubling back on the trail we came from.  I had no idea where I was or really where I was going.  I just kept running and watched for some sort of sign that I was headed in the right direction.
As I made it back to the trail I saw her.  I was closing the gap, slowly, but surely.  She took the opportunity to look over her shoulder at every turn, so I knew SHE KNEW that she was in my sites.  I pressed forward and just held the pace.  As we hit the last aid station, I wanted a bit of water.  I yelled ahead to the volunteer and she held up the cup.  As I reached for it…..she took it away and tried to give it to someone behind me!  WHAT!?!?!  I tried for the other volunteer on the other side of the trail.  Bad move.  I ran head on into another racer coming the other direction (Sorry to whoever you are!).  I missed that cup as well.  I gave up.  I was not happy and knew I had no time to waste as I was in the last minutes of this race and my rabbit was getting away.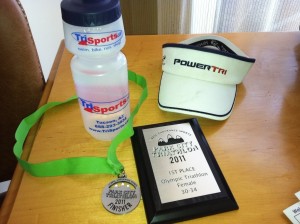 The gap kept getting smaller and smaller, but I knew I was running out of time.  She crossed the finish line 8 seconds before me.  One more turn.  All I needed was one more turn and I could have run her down.  I crossed the finish in 4th overall and winner of the 30-34 age division.
When results came out I realized that I had a good race.  The 3 females in front of me were AMAZING!  First place was Kesley Withrow another PowerTri athlete and Pro triathlete from Park City.  Second place was Sarah White who is a young up-and-comer who we all better watch out for.  She is FAST!  Lesley Rockwood was third and we pretty much ran identical races.  I had a solid swim (for me…..this is where improvement can be made), the 3rd fastest bike and the second fastest run!  What did I say?!?!?  YES!  The second fastest run.  I ran a 42:59 with an average of a 7:02/mile pace.  That was the fastest 10K I have ever run in my life…..inside or outside of triathlon!  I WAS STOKED.  Clearly the beatings that Coach Mahogani has been imposing upon my legs by way of tempo runs and track workouts is paying dividends.
The best part about everything was that I FELT GREAT!  I got a bit stiff 2 days after the race, but really felt AWESOME!  Even though I broke some serious "rules of racing", they all worked out to my benefit.  I love my new bike fit.  The supplements seemed just fine and could have helped with a great run.  I was even able to clip into my pedals with the new toe warmers (I can't imagine what my feet would have felt like had I not had them).  Everything fell into place.  I have some more tweeking to do.  I will keep working with my bike components.  I know I can ride faster than I did.  I will continue to push my training because it is working.  I'm feeling strong and I'm feeling fast!
As far as the rest of the season……BRING IT ON!  I can't wait to see what the next few months hold for me.  Not every race will be perfect (this one wasn't), but I will continue to do my BEST!  Thanks to HT Training for all you do!  I love you guys!  Also, thanks to PowerTri for a great weekend at Park City and one really fun BBQ.  Up next………Escape from Scofield!  Now we are talking about elevation and climbing!  Can't wait!